Cold Revenge (Freedom)
From Ouroboros Portal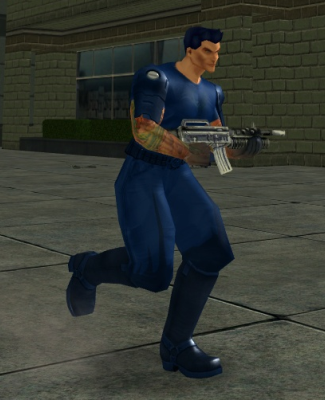 Cold Revenge is a level 15 Technology Blaster on the Freedom server, played by @Patteroast. His primary powerset is Assault Rifle and his secondary powerset is Energy Manipulation. He has pool powers from the Leaping set.
Cold Revenge was created on November 28, 2007, but was later deleted. He was remade on August 16, 2010.
Cold Revenge's counterpart on Primal Earth is Hot Justice.
Backstory
Praetorian Hot Justice... maybe?
Powers
Assault Rifle: Slug (1), Buckshot (2), M30 Grenade (6), Burst (14)
Energy Manipulation: Power Thrust (1), Energy Punch (4), Build Up (8), Bone Smasher (10)
Leaping: Super Jump (12)
External Links