Elfis Lives (Virtue)
From Ouroboros Portal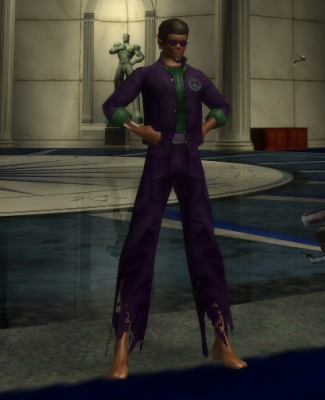 Elfis Lives is a level 12 Magic Defender on the Virtue server, played by @Patteroast. His primary powerset is Sonic Resonance and his secondary powerset is Dark Blast. He has pool powers from the Speed set.
Elfis Lives was created on June 8, 2007.
Elfis Lives is a member of the Fae supergroup.
Backstory
Elfis was one of the most popular elf recording artists in the world. Then he died. A couple weeks later some of his fans held a ritual to bring him back to life. It mostly worked!
Powers
Sonic Resonance: Sonic Barrier (1), Sonic Haven (2), Sonic Siphon (10), Sonic Dispersion (12)
Dark Blast: Dark Blast (1), Gloom (4), Moonbeam (6)
Speed: Super Speed (8)
External Links