T3h Ub3rbl4st3r (Victory)
From Ouroboros Portal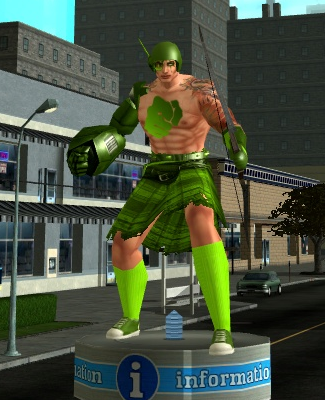 t3h Ub3rbl4st3r is a level 16 Mutation Blaster on the Victory server, played by @Patteroast. His primary powerset is Archery and his secondary powerset is Ice Manipulation. He has pool powers from the Leaping sets.
t3h Ub3rbl4st3r was created on June 19, 2007.
t3h Ub3rbl4st3r is a member of the Guild of the Demons supergroup.
Backstory
The most amazing blaster that ever was.
During the week, he's a mild-mannered banker.
... he still has the giant robotic arm, though.
Powers
Archery: Snap Shot (1), Aimed Shot (2), Fistful of Arrows (4), Blazing Arrow (6), Aim (10)
Ice Manipulation: Chilblain (1), Frozen Fists (8), Ice Sword (14), Build Up (16)
Leaping: Super Jump (12)
External Links